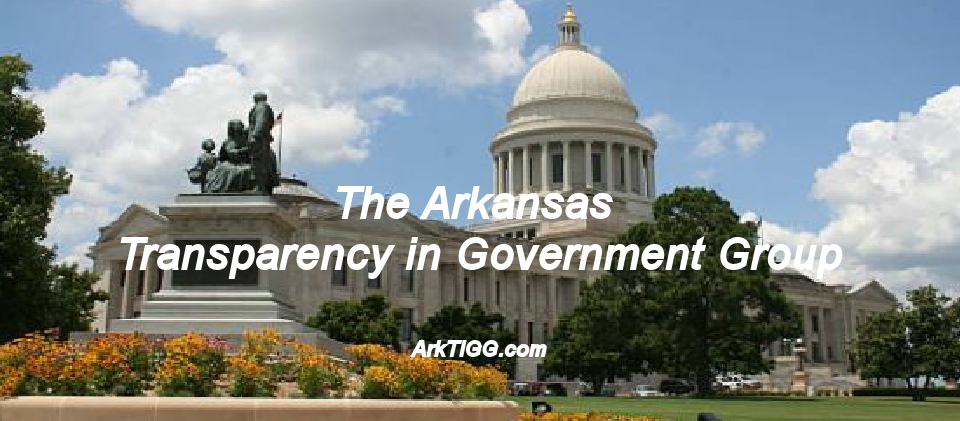 THE ARKANSAS TRANSPARENCY IN GOVERNMENT GROUP serves as the umbrella organization for ten local self-named and self-directed Transparency in Government Group chapters located in Baxter County, Bella Vista, Conway, Fort Smith, Harrison, Hot Springs, Gravette, Jonesboro, Ozark and Washington County.

Each of the TIGG chapters has dedicated its membership activities to the better understanding of the State's Freedom of Information Act (FOIA) of 1967, as amended, and the ramifications of that special and important State law as it impacts the lives of all citizens of Arkansas.

Members of the Group are also dedicated to helping raise the awareness of that important State law and to assist in providing useful information to citizens of the State. Members help citizens better understand how the statute impacts their respective lives and how knowledge of the law can assist them as they inquire about the workings of local, county and State governmental entities.

This website has been developed to undergird the workings of each local TIGG chapter and the overarching organization, THE ARKANSAS TRANSPARENCY IN GOVERNMENT GROUP. It is anticipated that within this website, citizens of this State will be able to readily access pertinent information concerning the original establishment of the Group, the purpose of the Arkansas Freedom of Information Act, information concerning FOIA Symposiums scheduled by the Group and news from across the State concerning FOIA related issues as printed, broadcasted and televised via various news agencies. Viewers of this website will be made aware of some of the activities implemented by each of the ten local TIGG chapters, and they will be able to readily link with other key websites throughout the State which serve to promote openness and transparency with various agencies that receive and expend taxpayer dollars.
This website is also a ready source for locating information concerning THE ARKANSAS FREEDOM OF INFORMATION HANDBOOK. The HANDBOOK is a valuable tool designed by its publishers to answer a wide variety of questions concerning a multitude of FOIA issues. This website also features comments concerning the treatise entitled THE ARKANSAS FREEDOM OF INFORMATION ACT, the publication which has become the "FOIA Bible" to many citizens and governmental officials throughout the State. Via this website, individuals will also be able to locate the names and contact information for attorneys, judges and prosecuting attorneys who have been most ready to ensure that the intent and purpose of the Arkansas Freedom of Information Act are adhered to--not circumvented and not overlooked.

This website is not static but will, in all likelihood, be everchanging as additional information is forthcoming and as various situations dictate. At any rate--and foremost--it will be a site readily available for the citizens of Arkansas to become aware of, and learn about, the people's law, the Sunshine Law and the law which was conceived with openness and transparency in the minds of Governor Winthrop Rockefeller and dedicated and concerned legislative members in 1967.